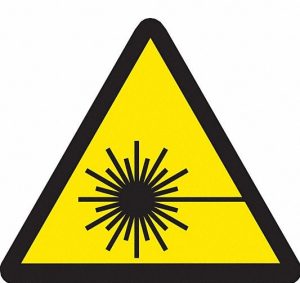 Class 3B and 4 lasers are regulated by the State of Florida and must be registered with the UF EH&S Laser Safety Program.
Additionally, there are several requirements based on the class of the laser which are listed below.  However, each laser is evaluated and more or less requirements may apply based on circumstance. Class 1, 2 and 3R lasers are not regulated and therefore no laser safety precautions are necessary.
Contact the UF Laser Safety Officer with any questions.
---
Laser Lab Requirements
Class 3B should and Class 4 laser labs shall
Have a standard operating procedure available for the lasers in use
Have an emergency off device for each laser
Have an indicator of laser use at the entry to the lab (i.e., a "laser in use" light)
Have an interlock or security latch in place at the entrance to the lab
Control entry to the lab
Control possible escape of laser radiation through windows and other portals
Class 3B and Class 4 laser labs shall
Receive a laser safety survey every six months
Be posted with appropriate signs
Have, and require the use of, appropriate protective eyewear
Train all laser users and restrict laser use to those users
Training
Online Training
Anyone that works in a lab with an active Class 3B or 4 laser is required to take the online training UF_EHS833_OLT. Users of re-classified microscopes are required to take this training as well. Please visit MyTraining to complete the course.
Hands-On Training
Anyone that will be directly working with the laser must receive hands-on training by their PI or another authorized and experienced user. Once a person is ready to work without supervision, a Statement of Training Form may be submitted to authorize them.
Laser Safety Documents