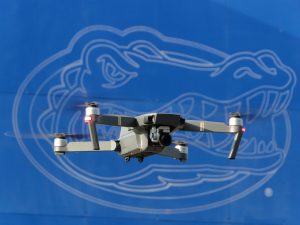 Unmanned Aircraft Systems also known as Drones have become increasingly popular as an effective tool for research, building maintenance, safety operations and recreation as just a few examples. The Office of Unmanned Aircraft Systems provides support to faculty, staff, students and vendors to achieve their mission goals while complying with Federal, State and University regulations.
The Federal Aviation Administration's (FAA) comprehensive regulations went into effect August 29, 2016 for use of small unmanned aircraft systems (UAS) or unmanned aerial vehicles (UAV), more popularly known as "drones." The provisions of the new rule – formally known as Part 107 – are designed to minimize risks to other aircraft and people and property on the ground.
EH&S will provide a flight permit upon review of required documentation and flight plan.
Please submit flight plan as early as possible. At a minimum, allow three business days for processing flight plan requests.
Please visit the UAS Policy for specific administrative guidelines and regulations.
Required Documentation & Procedures Prior to Flying
The following items are required prior to flying Drones on UF Campus:
Remote Pilot Certificate
FAA registered drone
Liability Insurance (required for non-UF (vendor) or recreational flight)
Pilot registration with EH &S
Aircraft registration with EH&S
Flight Request submission with EH&S
Training & Resource Videos
The following videos are accessible on YouTube: