Environmental Health & Safety continues to provide our critical services and assistance to the research community.  Our department is working with several other University units in response to the COVID-19 crisis. This page supplements information found at coronavirus.ufl.edu. If you need assistance, please contact us at (352) 392-1591 or covid@ehs.ufl.edu.
In an effort to protect the community, faculty, staff and students located at UF's Gainesville campus will be invited to complete a weekly COVID-19 screening questionnaire and request testing through UF Health Screen, Test & Protect. Survey links will be emailed at the beginning of each week. More information can be on the UF at Work announcement.
COVID-19 Hierarchy of Controls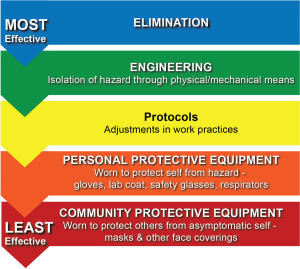 The Hierarchy of Controls is a system used to deploy effective controls within an organization, workplace, or community to identify the most effective ways to control a hazard.  Usually categorized as: Elimination, Substitution, Engineering controls, Protocol/Practices, and Personal Protective Equipment, the hierarchy below has been adjusted for COVID-19 to include Community Protective Equipment (face coverings).  Please refer to the graphic and guidance below for details.