Confined Space Entry Policy
Confined Space Entry Policy
OBJECTIVE
This policy establishes minimum requirements designed to protect the health and safety of University staff that must enter and work in confined spaces..
AUTHORITY
By authority delegated from the University President, the Vice-President for Business Affairs is responsible for the safety of all University facilities. Under this authority, policies are developed to provide a safe teaching, research, service, housing and recreational environment.
POLICY
All employees, students, volunteers and contractors working under direct UF supervision shall comply with all elements of the UF Confined Space Entry Program.
A permit, as described in the PROCEDURES section of this program, shall be reviewed and filled out prior to any confined space entry.
Work areas identified as confined spaces shall be tested and verified as safe prior to entry. If testing determines that the space does not have a safe atmosphere, forced air ventilation shall be introduced until the space is safe and continued until all work within the space is complete. Continuous atmospheric monitoring shall be conducted while personnel are in the space.
Only trained and authorized personnel are allowed to enter a confined space, to supervise work activities involving confined space entry or to serve as an outside attendant during confined space work.
RESPONSIBILITIES
PROCEDURES
The following program defines the potential hazards and the required safe entry procedures for confined space work. All covered employees are expected to comply with these stated procedures.
Air Monitoring and Testing
Direct reading, intrinsically safe multi-gas confined space monitoring instruments must be used to conduct air monitoring of confined spaces. All monitoring instruments must possess an audible alarm that signals when parameter levels exceed safe levels. The instrument shall be equipped with the appropriate toxic gas sensor for the specific job.
EH&S must approve all monitoring instrumentation prior to purchase and can assist in the selection of the appropriate equipment.
Individuals performing atmospheric monitoring of confined spaces must be trained in the use of and be able to demonstrate proficiency in the use of the monitoring instrument. Instruments shall be "bump tested" in accordance with the manufacturer's instructions prior to each use. The date and time of the bump test shall be recorded on the entry permit.
Each hazard parameter shall be measured for at least thirty seconds or until the instrument reading is stable. The sequence for parameter measurement is as follows:
First: Oxygen levels
Second: Flammability/Explosivity
Third: Toxicity
When monitoring, readings must be taken every two feet from top to bottom in order to account for a stratified atmosphere.
The atmosphere shall be monitored on a continuous basis until work in the space is complete.
The entrant must wear a personal, direct reading oxygen meter if work in the space is to take place beyond the point of entry.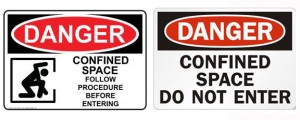 Spaces meeting the definition of a confined space shall be marked with the appropriate signage warning of the potential dangers. For example:
Entry Procedures
The entry permit shall be completed by the supervisor and be definitive for all possible hazards. Before entering a confined space, employees shall review the specific entry permit for safe entry and emergency exit information.
Openings (i.e. manholes) must be promptly guarded by the placement of railings, temporary covered or other effective barriers that will prevent an accidental fall through the opening and that will protect employees working in the confined space from foreign objects entering the work area. The use of traffic cones, unless coupled with a railing system, is prohibited as a method of guarding an opening.
Confined Space Entry Participant Responsibilities
Training Requirements
All participants in confined space activities shall receive training that provides the understanding, knowledge and skills necessary for the safe performance of the duties required for confined space entry. The training shall include an overview of the confined space program requirements and the potential hazards that may be encountered. Specific training on confined space monitoring and on the requirements of each entry team member shall be covered in detail.
The Entry Supervisor is responsible for verifying that the required training has been received by staff prior to conducting any work related to confined space entry.
Due to the potentially hazardous nature of confined space work, UF policy requires that any employees involved in confined space entry activities receive training every two years.
All training must be documented in writing.
Depending on the type of hazards encountered during confined space work, additional training and the participation in other EH&S programs may be required. Examples of areas requiring additional training include:
Lock Out/Tag Out
Electrical Safety
Respiratory Protection
Hearing Conservation
Bloodborne Pathogens
Hot Work
Heat Stress
Department Supervisors should determine whether additional training in these areas is required or contact EH&S for additional information.
Rescue and Emergency Services
Appropriate means for rescue must be determined prior to the start of any confined space entry activities. Rescue options available to UF confined space program participants are described below.
Record Keeping
All impacted departments shall maintain written records of training including entry/rescue exercises and equipment inspections for at least one year or until the date of the next scheduled training. In addition, entry permits shall be retained for at least one year. Where medical monitoring is conducted for respiratory protection or for hazard exposure, records shall be retained for the duration of employment plus thirty years. Where atmospheric testing indicates the presence of a toxic substance, records shall be maintained in accordance with existing Federal regulations.
References and Resources
American Conference of Governmental Industrial Hygienists. [Threshold Limit Values for Chemical Substances and Physical Agents and Biological Exposure Indices.] 1994. Cincinnati, OH 45240.
American Industrial Hygiene Association. [Confined Space Entry, An AIHA Protocol Guide.] 1995. AIHA, Fairfax, VA.
American National Standards Institute. [Safety Requirements for Confined Spaces.] 1989. ANSI.
U.S. Department of Labor, Occupational Safety and Health Administration, 29 CFR 1910.146. [Permit Required Confined Spaces, Final Rule.] Federal Register Vo. 5, No. 9, January 1993.
U.S. Department of Health and Human Services, Public Health Service, Center for Disease Control, National Institute for Occupational Safety and Health. [Criteria for A Recommended Standard: Working in Confined Spaces.] December 1979. NIOSH #80-106.
U.S. Department of Health and Human Services, Public Health Service, Center for Disease Control, National Institute for Occupational Safety and Health. [Worker Deaths in Confined Spaces. A summary of Surveillance Findings and Investigative Case Reports.] January 1994. NIOSH #94-103.
Useful Definitions Relevant to Confined Space Safety
Additional Information Pertaining to the Potential Hazards Encountered in a Confined Space